-« Is everything manufactured in France? »
Yes indeed, Galerie Troubetzkoy in Paris, with its five workshops in the back of the shop has about 15 French artists working for it. They are skilled workers and trained in our processing technique (some of them have been working with us for 20 years). The close relationship between workshops and shop ensures speed up of your orders.
---
-« Do you paint over photos? »
We paint our replicas on first quality artist canvasses. An HD photograph from our laboratory has been previously projected on the canvas by our specialised technician. It has been, so to speak "absorbed" on the canvas. We do this in order to keep the best possible accuracy of the original painting. The result is an incomparable level of authenticity of detail. It is also a way to guarantee a reasonable completion time- and a reasonable price
---
-« Are you offering fake works of art? »
Only the attribution of a painting may be fake. A forger will try to sell (at an exorbitant price) a falsely attributed work of art as a supposedly authentic painting. His only genius is, not to get caught. Due to the quality of our replicas, some amateurs may be bluffed -they might think it is an original – but our paintings are guaranteed and certified by a wax seal on the back of each canvas. What you have is indeed a magnificent copy of Galerie Troubetzkoy, it is not a fake.
---
-« May everything be copied? »
If the original painting which you wish to have copied it not yours, it must be in the public domain. Contact us to find out if your project may be carried out.
---
-« Why buy a copy when I can buy an original? »
Our replicas are real paintings, with their own auras. They will give you as much pleasure as an original painting. A beautiful copy carries on the emotion of the original painting. Besides, if you care about supporting active artists, you should remember that, in addition to its salaried artists, the gallery also invites to its premises a few talented outside artists – in particular for portraits. They are grateful for the extra job and you will be fully satisfied.
---
-« Is it not a little disgraceful to have a copy of a painting at home? »
So as to fight unfounded prejudices - provided the original painting is not too famous - if you do not wish to tell your guests that you have a replica, the quality of our workmanship will make sure that nobody will ask you any embarrassing question. On the other hand, those among your friends who appreciate beautiful art will rave about our work -and your purchase!
A Troubetzkoy replica is also an original gift idea, you can be sure they will love it.
After a successful 40 years, our gallery must keep fighting against the remaining prejudices against our trade: only the perfect integration of our painted replicas among original art pieces can definitely convince everybody that our paintings stand up to comparison.
---
-« What if I still wonder? »
The price of made in France quality supports a sizeable part of our economy. France's trademark is, it will not disavow its principles with a view to making more money in a dangerous headlong rush. "Nothing gets lost, everything is transformed" – in its way, Galerie Troubetzkoy today is a link in the long tradition of the prestigious French arts and craft workshops which over the centuries have contributed to the influence of our culture and know-how around the world.After 40 years on the scene, we know that our replicas are so beautiful, and so sturdy, that all our paintings are guaranteed for life. Have no doubt, this is a true investment!
---
-A little historical vignette : «Parrhasios' tour de force»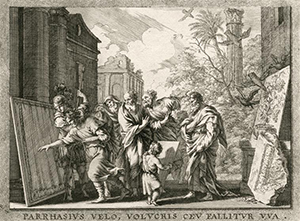 At the apex of their civilisation, the Greeks thought that art was meant to imitate nature as ideally as possible. At the time there lived in Athens an artist, whose name was Zeuxis. He boasted about being the best painter in the city. He was vying for the title with Parrahsios, another artist, who one day suggested a competition, a public "painting joust" which would eventually establish the winner. Parrahsios' audacity amused Zeuxis, who picked up the gauntlet.
On the day assigned for the competition, both artists exhibited one painting each. They were to be covered up with a curtain. Zeuxis was called on to unveil his painting first; so he solemnly opened up the curtains in one grand swoop, and the public discovered a magnificent composition. It represented bunches of grapes, and they were so well depicted that just a few minutes afterwards some hungry birds flew over to the painting, and tried to pick on the grapes! The demonstration was so stunning that Zeuxis asked Parrhasios how he could do better. The latter replied "Well, why don't you have a look at it yourself, great master", and he beckoned for Zeuxis to unveil his own painting, which was still covered up by a veil. Zeuxis then got close to his rival's wall and was about to unveil the piece, when he realized - to his great mortification - that the curtain was painted… Zeuxis then declared that, whereas he himself was able to deceive mere birds, Parrhasios was able to deceive the best artist (an evidence of his own modesty), and this clearly indicated who was the better of the two.
Paris, two thousand five hundred years later. A very smart gentleman entered Galerie Troubetskoy. He was very interested in our primitive Flemish and Italian paintings on wood. He explained that he was himself an artist and a well-known designer. He was very sensitive to colours, and very au fait with ancient art. He was astounded by the price of our art-pieces. He meant to acquire a few of them and had one last look around in the gallery to be sure he would not miss any. He came back a few minutes later, white as a sheet: "They are actually replicas, are they not?!" Indeed they are, it figures in big letters over the door of our gallery: "Replicas of all art-pieces". On this, he left the place. How could an artist buy original pieces (of such quality) at that price? This is a tour de force which only Galerie Troubetzkoy is capable of doing, to your great satisfaction. Conclusion: if one of your artist friends discovers a Troubetzkoy replica at your place, just as Zeuxis in the olden times - whatever he says - he'll be stunned!